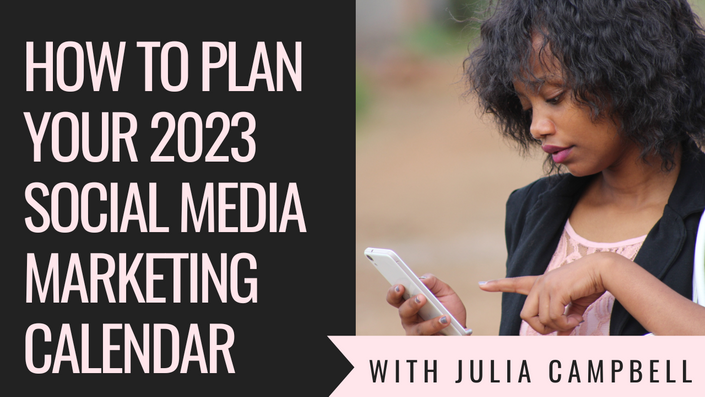 How To Plan Your 2023 Social Media Marketing Calendar
Your step-by-step roadmap to crush your nonprofit social media marketing goals in the New Year!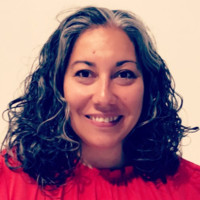 "Julia is so knowledgeable and enthusiastic about her material. And she makes you feel like you CAN really accomplish great things!"
- Veronica Accardo, College Bound Opportunities
Whether you had a firm plan and calendar this past year, or you are starting from scratch, it's never too early to start planning for a successful new year.

There are thousands of others in the nonprofit sector, just like you, stretched too thin, putting out fires, and not knowing how all of this "social media" and "digital marketing" work is going to fit into an already-packed daily schedule.
There are constantly emails to send out, a website to update, a Facebook page and Twitter feed to manage, Instagram and Snapchat to explore, plus phone calls and meetings… so how to get it all done?
How can you re-focus, re-prioritize, and get yourself back on track with your online communications?
The answer is having a mapped out Nonprofit Marketing Calendar. And in this live training, I'll show you how to create one!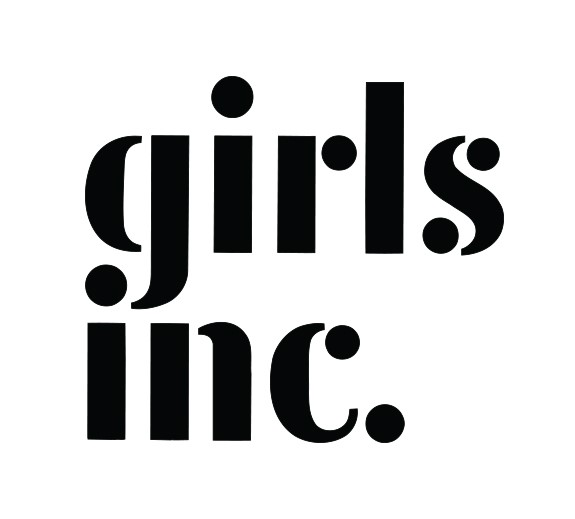 "I am new to this kind of marketing so I am now thinking in entirely different, concrete terms about how to proceed. I am confident that the information I got today is going to help enormously."
- Stasha Miller, Girls Inc. of the Greater Capital Region
Whether your nonprofit is large or small, has a huge online presence or is just starting out, I will show you how to map out a 2023 Nonprofit Marketing Calendar that will help you focus and prioritize the work.

In this live training, we cover:
Nonprofit marketing trends going into 2023;
A step-by-step guide to building your nonprofit communications calendar (even in very uncertain times);
Your very own Made-to-Order 2023 Calendar Template, for you to customize with your promotions, events, and activities;
Actionable ways to build in accountability and follow through as you work the plan and stick to the Calendar;
Free and low-cost tools to use to save time and inspire creativity when creating communications in the new year.
Live Q&A Session! Get those specific questions answered.
What you'll get:
The recording of the lively two-hour training session with insightful Q&A.
Lifetime access to the recording, as well as lifetime access to any updates that I make to the course or training.
Marketing Plan Workbook
Your very own Made-to-Order 2023 Calendar Template, for you to customize with promotions, events, and activities
Measurement Spreadsheet
Best Practices for Small Nonprofits on Social Media
Nonprofit Marketing Tools of the Trade
Your Instructor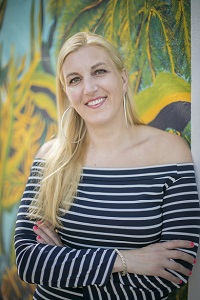 Hi I'm Julia!
I've been working in and alongside nonprofits for two decades. I've been a one person Development and Marketing Department, a volunteer, and a Board Member.
Having spent my career in the nonprofit and public sectors, I understand the specific obstacles that marketing and fundraising professionals face every day – isolation, wearing multiple hats, high expectations, and increasing responsibilities.
And - lucky for you - I've learned a few things along the way.
More specifically, what works - and what doesn't - in online fundraising.
What is essential for success - and what can we ignore (or throw away for good).
How to get your message to stand out from the rest.
How to get people to believe in, and to become passionate about, your cause.
Do these sound like things you struggle with?
If you said a resounding YES, you are in good company.
Most nonprofits struggle with online fundraising, especially with the craziness around GivingTuesday, year-end, and all the noise and clutter on digital channels.
With streamlined strategies and an intentional approach to using your website, email, and social media, you can grow an audience, gain attention, and drive donations.
With me as your expert guide, and a cohort of other nonprofits willing and eager to learn alongside you and support you - this is TOTALLY doable. I promise!
Julia
"Your training (and subsequent webinars, tips, tools, and inspiring emails) were exceedingly helpful. I started in social media, and have moved on to more general marketing and individual donor management, but learning from you was absolutely crucial in my comms development and sticking to it in the nonprofit world. When I lead trainings at work, one of the first thought experiments is to establish urgency and importance with "what if the doors closed tomorrow?" Got it from you, and I love it."
- Brian K., Communications Director
Frequently Asked Questions
How long do I have access to the course?
Lifetime access! After enrolling, you have unlimited access to this course for as long as you like - across any and all devices you own.
What if I am unhappy with the course?
We would never want you to be unhappy! If you tell me that you didn't learn anything new from this training, I will refund you in full.